"As you sew, so shall ye reap", "What goes around come around", very familiar to all of us, all of them examples of a supposedly Universal law of cause and effect, action and reaction.
Karma is basically any negative or positive action or thought that remains that way, until it expends its energy by acting on the originator.
This is what has obviously happened to one chap, a Mr.Smith who has been given a criminal record for telling the Dean of York 'She will burn forever in hell'.
I wont go into details, but here's the link
http://www.yorkpress.co.uk/news/13329478.Man_who_told_the_Dean_of_York_she_will__burn_in_hell__gets_criminal_record/
There is even a petition to remove her from York Minster.......
https://www.change.org/p/church-of-england-arch-bishop-of-york-dismiss-vivian-faulds-as-dean-of-york-minster
So you might just be wondering "What is this world coming to?"..... well that aint the 'alf of it m' ducks.....
They wished the Dean of Leicester dead too.............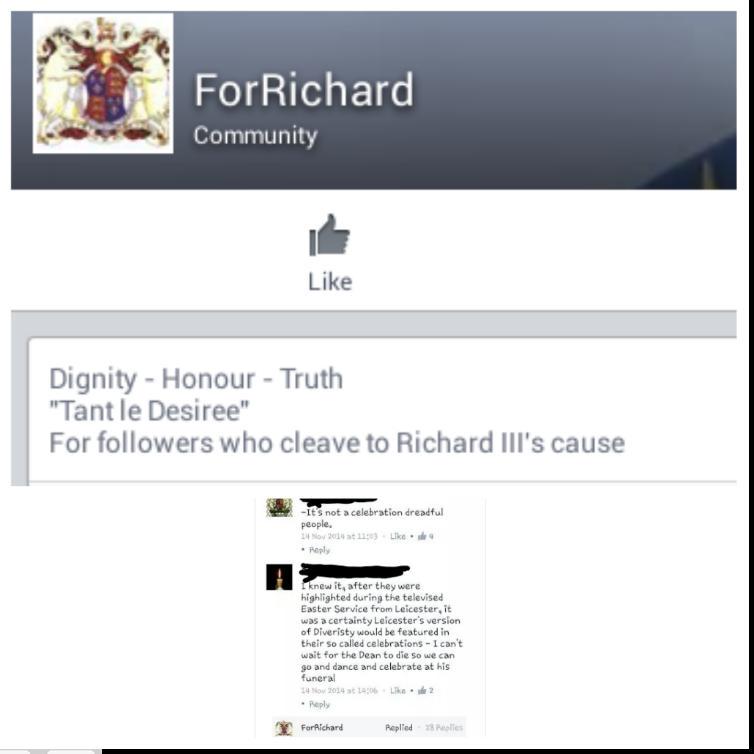 All this nastiness isn't new, last year a couple of Facebook groups and pages asked their members and likers to diss the visitors center by leaving them ONE star reviews, even when they hadn't visited!!!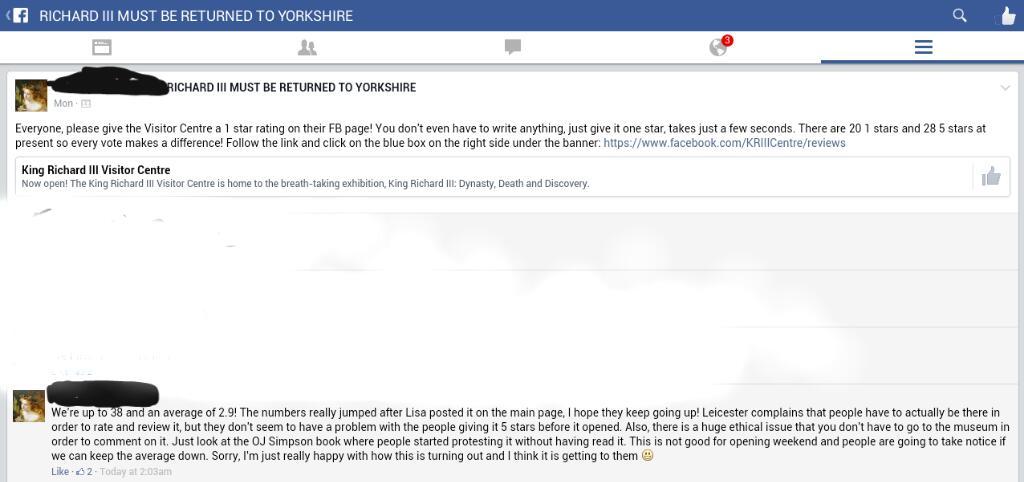 Some of the comments about Leicester itself over the past TWO and HALF years have not been that great either......
Some of the comments about Leicester are not easy reading such as one poster made this comment…
'Did you know that (Leicester City have opposed the replica of a Boar on Richard III's tomb (if they allow a raised tomb in their poxy cathedral) because apparently with it being a multi-cultural city it would offend ................................ guess who!!!!! This is the history of our country and as such should be under no scrutiny from foreigners whether they be British citizens or not!!!!
And another replied 'Hope that's right Linda. If not, I'm sure the more intelligent immigrant residents of Leicester would find this crass decision ridiculous and quite insulting.'
Although saying that, we've had a laugh and some have been very amusing. One lady refuses to eat products made in Leicester........................................
http://www.theguardian.com/politics/2013/may/15/stephen-bates-diary-richard-iii-facebook
But I think we can safely say that we have seen justice has been exercised today, something I think Richard III would have approved of..... Don't you think?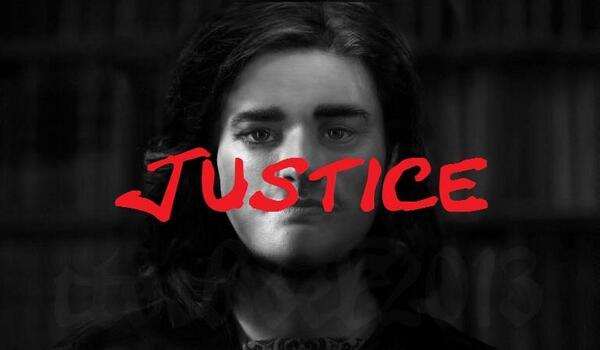 ****Looks like the links arn't working so copy and paste them to your search and they will come up*****